Leading The Pack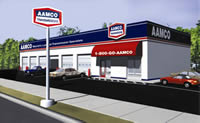 Owning an AAMCO franchise has been a great way to make a living for more than 40 years-now it's bigger, better and more profitable than ever!
In the $7 billion transmission repair industry, there is AAMCO-and then there is everyone else. Over 720 locations in the U.S., Canada, and Puerto Rico make AAMCO the clear choice in a market full of opportunity. Unparalleled in name recognition, industry reputation, and technical expertise, AAMCO also offers all of the support you need to be a successful business owner.
Since 1963, AAMCO has had the proven business system that has made it the undisputed industry leader, long ago having earned the distinction of being The World's Largest Transmission Specialists. AAMCO has consistently been voted the #1 franchise in its category by Entrepreneur Magazine since it began publishing the Franchise 500 twenty years ago.
Your Road to Success in Business Ownership
For years, you've put in your forty or more hours, week after week. Now you're ready to take the next step on your road to financial independence. As so many before you, you can live your dreams with AAMCO.
Owning an AAMCO franchise has afforded hundreds of franchisees financial stability, freedom, and security for forty years and counting. You've put your dues in, now is the time to reap your rewards.
Business is Booming
Cars-and the need to service them-are not going anywhere. Today there are over 225 million vehicles on the road-an increase of more than 15 million in just the last four years-all of which will need repair and maintenance. At the same time, drivers own their cars longer, and the average age of a car is now over 9 years. More cars, older cars, and vehicles driven to their limit all add up to one conclusion: there has never been a better time to be an AAMCO franchisee.
New, Huge and Growing Fast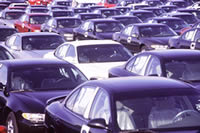 In the world of automotive service, repairing and servicing transmissions requires specialized skills. AAMCO technicians are the cream of the crop. Which is why we dared to imagine-if our technicians are skilled enough to repair 150 different types of transmissions, surely they would have no problem with simpler, more routine services such as oil changes, tune-ups, mufflers, and brakes. We were right. We pilot-tested the AAMCO Service Plus program and our franchisees are generating more business by offering more services. Those services are very profitable. And our franchisees are experiencing higher revenues and stronger profits week after week.
In barely a year, AAMCO Service Plus has more than delivered, evolving into a new way of doing business for our centers in the exploding yet remarkably under-served automotive aftermarket. Nearly one-third of the demand for automotive service goes unmet every year. Customers want one-stop shopping, trust, and reliability from their automotive service provider. AAMCO franchisees are giving it to them, and in doing so, are generating more business, repeat business-and it's only the beginning.
The AAMCO Support Network
AAMCO offers comprehensive training, ongoing operational support, cutting edge technical support, as well as real estate and financing assistance. Always at the forefront of technology, we lead the pack in technical competence and advancement. And AAMCO's well-known advertising keeps the AAMCO name top-of-mind for consumers when they need automotive service and repair. All of these efforts help ensure our franchisees' excellent quality of service - and huge opportunity for success.
No Mechanical or Automotive Experience Required
AAMCO franchisees come from all walks of life, from corporate management to attorneys, teachers to engineers, retail managers to accountants. The AAMCO business system has allowed hundreds of franchisees with absolutely no automotive or mechanical background to succeed by taking advantage of the years of refinement of a very successful business model.
Owning an AAMCO Franchise
Owning an AAMCO franchise could be well within your reach-the investment required is significantly below that required by many other franchisors. AAMCO is affordable, stable, and constantly opening up new avenues for profitable growth for our franchisees.
To meet the unmet demand for automotive services, we'll be opening scores of new AAMCO centers. Interested? You're not the only one. So you'd better move fast!
Year Established: 1963
Total Units Operating:900+
Total Investment Required:$200,000-$260,000

Franchise Fee: $39,500
Financial Assistance Offered: YES-SBA, Conventional, 401k, IRA
Training and Support: YES