Clean Up. Succeed. Customers for Life.
The Franchise Choice of Smart Business People for Over 20+ Years!
A Maid Brigade Franchise Offers:

The Brand People Trust
The Largest Exclusive Territories with the Potential to Build a US$1,000,000+ Business
Unparalleled Training and Support
The Latest Technological Advancements
One of the Safest Franchise Investments Available Today - With Established Systems and Ever-Accelerating Demand for Residential Cleaning, there are No Limits to Your Success
The Maid Brigade Opportunity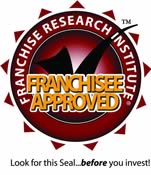 Developing, owning and running a business shouldn't be a job. It should be a passion. At Maid Brigade, we pride ourselves in making sure it's so. Providing professional home cleaning with a focus on "Customers For Life," Maid Brigade franchisees are part of a company that is acutely focused on success and growth.
Maid Brigade is designed to help your business succeed in an ever-growing industry. Across the U.S. and internationally, we have franchise markets available. With exclusive territories, comprehensive training and unrivaled support, Maid Brigade offers a bright future.
Before you open your doors and throughout the life of your business, support is always available from our network of support staff, the Home Office, and of course other franchisees. New members of the Maid Brigade family can benefit from the advice, encouragement and a wealth of experience shared by all who have 'been there, done that' and are enjoying their success.
Maid Brigade's unique products increases the life of a customer through superior, guaranteed service and ongoing communications designed to build value and customer loyalty.
The Maid Brigade Operation
Maid Brigade franchises offer the best opportunity in the industry. Exclusive territory sizes start from 25,000 qualified households. We can tailor your market size to best suit your needs. We provide unparalleled support, business development and the latest technology in the industry. So if you have the desire and commitment to succeed, contact us.
The Maid Brigade Franchisee
Maid Brigade franchisees work on the business, not in the business. You are the CEO; your management skills are applied at the top. Our franchisees come from all different backgrounds-from lawyers and dentists to hospital administrators and teachers, and just about everything in between.
Our franchisees, several of who are in the million-dollar range-the largest operation will exceed US$5,600,000 in gross sales-are the best testament of our commitment and vision.
Maid Brigade Training & Support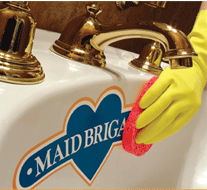 From pre-opening throughout the life of your business, franchisee support never ends. Maid Brigade offers training DVDs, online manuals, home office training, on-site training, franchise group consultants, Webinars, bulletin board, e-mail, councils, conferences, our annual convention, advanced training classes and technical support. Our exclusive "Mentor Visit Program," gives all new franchisees the opportunity to work alongside an established Maid Brigade franchise. And, our extensive support staff is comprised of former successful Maid Brigade franchisees. What better way to learn than from the best?
Maid Brigade franchisees are armed with the latest technological innovations to insure a competitive edge. Our proprietary MicroMaid software and Internet site are among the best in the industry. MicroMaid, along with Vision Statistical Reporting and Customer Relationship Management software provide solutions for managing every aspect of the business from the moment of inquiry throughout the life cycle of the customer.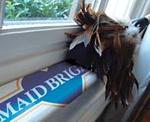 Maid Brigade provides its franchise owners with some of the industry's most sophisticated marketing tools to help grow their businesses, including a Client Services Website for individuals looking for Maid Brigade service. Customers can also call our National Sales Center, which is managed by a staff of in-house professionals who really know the business. They take calls and handle all new customer inquires. They answer questions, give estimates and set up appointments. It makes your life a lot easier. And only Maid Brigade offers it.
From MicroMaid to our National Resource Center and private Internet sites for franchisees, we don't adjust our business to fit the latest tech trends-we use that technology to work seamlessly for our business.
Maid Brigade - Simply the Best!
Year Established: 1979
Total Units Operating: 402
Cash Investment Required: $34,500
Total Investment Required: $121,000

Minimum Net Worth Required: $150,000
Franchise Fee: $29,500
Financial Assistance Offered: Third Party
Training and Support: Comprehensive