Archadeck... In America's Most Popular Backyards

Archadeck, the nation's largest deck builder, features custom decks, screened & open porches, sunrooms, gazebos, pergolas, arbors, pool & spa decks and many other outdoor structures. We custom design and build each project to fit the architecture and landscape of our customers' home. Since our beginning in 1980, we have built over 65,000 projects. We now have over 80 locally owned & operated offices in 30 states.
Our Industry's Potential Is Tremendous
We have positioned ourselves to grow within an underdeveloped market. It is estimated that 60 million single-family homes in the United States do not yet have a deck. That's approximately 75% of all single-family homes. As a result, our business potential is tremendous. As a matter of fact, the market is approaching the $8 billion mark and analysts estimate a growth of 15% annually.
Franchise Ownership with No Construction Experience
Our franchisees come from a variety of backgrounds and industries, including communications, computers, accounting, retailing, sales and management. Often, potential franchisees are surprised to learn that no construction experience is needed to own an Archadeck franchise.
Our Proven Systems Produce Success.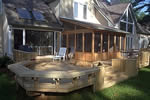 We teach franchisees everything they need to know to run a profitable Archadeck business:
Marketing
Every sale begins as an inquiry. The Archadeck approach blends local marketing strategies and national image advertising to maximize brand awareness. In doing so, we generate more inquiries, and more inquiries mean more sales.
Franchisees receive the resources necessary to create an effective local media campaign, including radio and television commercials, plus newspaper and yellow page advertisements. And, we offer expert advice on selecting and placing local radio, television and newspaper advertising, as well as direct mail. We advise franchisees how to create a media mix which will allow them to differentiate themselves from the competition - and to generate more inquiries.
Sales
Every homeowner represents a potential sale. So, once all these inquiries come in, how are they converted to customers? A key principle to a successful sale is the ability to design a solution that addresses the homeowner's desires, needs and budget. Through extensive classroom training, video role-playing and field training, franchisees learn the principles of design and the proven Archadeck sales methodology. Archadeck supplies the essential tools for successful sales presentations and successful sales wrap-up's.
Construction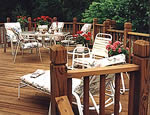 Archadeck has created The Archadeck Building System, a unique and proven method of construction.
This system includes techniques for quick installation and quality assurance. Our standardized details and construction methods allow for increased profitability by reducing construction time, without sacrificing quality. We provide step-by-step methodology to deliver the project on time and on budget, to a satisfied customer, with a profit for you, the franchisee.
Administration & Support
It's easy to lose control of any business and lack of control is bad business. To keep control in the right hands, we developed The Archadeck Administrative Package, which incorporates operations manuals, forms and custom software. These tools provide a straight-forward system for business management.
Our system offers instruction in Planning & Goal Setting, Gross Profit Analysis, and Cash Flow Management. In addition, we provide fast, accurate computerized pricing, lead tracking and a full accounting package.
With these tools in hand, each Archadeck franchisee is prepared to run a successful, profitable business. If all this appeals to you, then we'd like to consider you for ownership of an Archadeck business.
Year Established: 1980
Total Units Operating: 87
Cash Investment Required: $80,000 - $150,000
Total Investment Required: $80,000 - $150,000

Minimum Net Worth Required: $200,000
Franchise Fee: $39,500
Financial Assistance Offered: Yes
Training and Support: 20 days in Richmond, VA