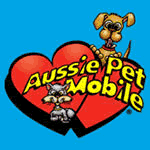 FOR RECESSION RESISTANT BUSINESS!
Imagine running your own business, being part of a multi-national company and dealing with great friendly people who love their pets. Aussie Pet Mobile is a tremendous opportunity for you to run your own business from your home.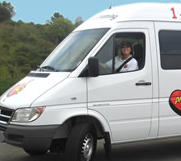 We Are Looking For Entrepreneurs Who:
Want flexibility in their life style
Want to be part of a proven, growing, dynamic system
Have Strong Communication & People Skills
Desire to Deliver Excellent Service
Have Drive for Success
Seek Financial Independence
Background History:
Aussie Pet Mobile was founded in Australia in 1996 and came to the United States in October of 1999. There are over 100 Franchisees servicing more than 500 territories in the United States and we are currently in 8 countries worldwide. Due to the exceptional service and professionalism of our company, Aussie Pet Mobile is ranked #1 in the Mobile Pet Grooming Industry, with no other competitor of similar scale on the market.
Benefits To The Client & Their Pets:
Aussie Pet Mobile offers a convenient, affordable, reliable & efficient service to pet owners to maintain and achieve their pet's best well-being at their own comfort convenience.
These benefits are: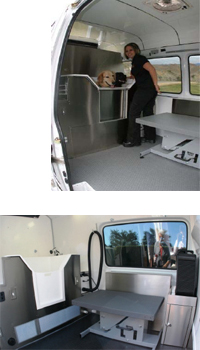 We come to your door in our fully equipped Mercedes vans
Stress free environment for your pet with no waiting in cages
Environmentally friendly products
De-Shedding Treatment "FURminator"
Flea & Tick Control
Full professional service
Benefits To The Franchisee:
State of the art Mercedes vans come fully equipped & ready for business
No prior experience in the pet industry needed
You will be trained on both Financial & Operations aspects of owning your own business
Flexible schedule
No real estate
Scalable model
High percentage of repeat customers
Effective Marketing plan/support
Partnership alliances with companies such as Disney, Chrysler, FURminator etc..
Recession Resistant
Aussie Pet Mobile Business Model:
Operational Support In Person & On-Line
Quick start up, with low-overhead no real estate investments
Cash-based business model no receivables
Easy to scale the business from a single unit, up to six or more
National 1-800# (1-800-Pet-Mobile)
Great technology to help manage scheduling, routing & customer database
Outstanding PR representation & a comprehensive menu of marketing options
The ability to employ a small team of highly motivated, trained employees
About The Pet Industry:
The pet grooming industry is huge and growing rapidly. More and more pet owners are willing to pay to have their pets groomed in a stress free environment at their homes with no waiting in cages for their pets. This not only benefits their pets but the owners too.
The pet industry is the 7th largest industry in the US.
Americans spend over $42 billion on their pets every year.
The Projected spend by 2010 is over $52 billion.
There are over 160 million cats & dogs in the US today and they all need to be groomed.
Aussie Pet Mobile Credibility Rankings:
Entrepreneur Magazine 2009:

# 1 Pet Services Franchises
# 79 Overall Ranking (2008 - #86)
# 18 Home Based Franchises
# 43 Fastest Growing Franchises (2008 - #49)
# 66 Global Franchises (2008 - #77)


Inc. 5000, Ranked Aussie Pet Mobile as one of the Fastest Growing Private companies in America for 2008
50 Franchise Business Review, Ranked Aussie Pet Mobile Best in Pet Service Category for 2009
AllBusiness Allstar Franchises, Ranked Aussie Pet Mobile out of the Top 300 Franchises for 2009.
Partnerships with major companies such as: Walt Disney Studios
Please note this opportunity is not offered in North Dakota, South Dakota or Washington D.C. as well as Canada or internationally.
Interested parties should have at least $50,000 liquid capital to invest.
Year Established: 1996
Total Units Operating: 405
Cash Investment Required: $60,000 - $200,000
Total Investment Required: $60,000 - $275,000

Minimum Net Worth Required: $200,000 - $1,000,000+
Franchise Fee: $35,000 - $125,000
Financial Assistance Offered: Third Party
Training and Support: Comprehensive