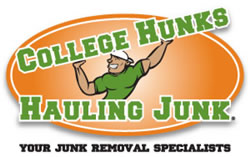 * Winner of Three American Marketing Association M-Awards
* Featured in SmartCEO Magazine and the Washington Post
Prime Territories Available NOW!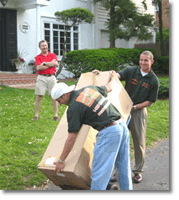 Don't settle for a secondary market with some other franchise. Large, top-tier metropolitan statistical areas are still available with College Hunks Hauling Junk.
A Growing but Segmented Industry
Junk-removal is gaining massive popularity and is being recognized as an industry of its own, however, it is still extremely segmented, which makes it vital to have a cohesive brand and an established system to put you in a category above the other local providers. A highly fragmented industry where demand for professional service is high and supply is low is a recipe for a tremendous opportunity.
College Hunks Hauling Junk is a franchise opportunity that
Is an established and award-winning junk removal business with a vision toward national growth.
Is more focused on capturing both residential and commercial customers' attention and securing their loyalty than other concepts.
Gives you a low-cost, complete system for growing your business in a very hot industry that is still highly segmented.
Now you can operate your very own College Hunks Hauling Junk franchise providing greatly needed services to commercial and residential customers in your own community!
Our goal is to make College Hunks Hauling Junk a national household name and create a brand that stretches from coast to coast. Our system is geared to create a mutually beneficial relationship with all of our franchise partners.
Junk Free is the Way to Be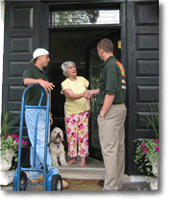 College Hunks Hauling Junk's systemized business model is easy to learn, and we have the resources to support you as you grow your operations.
Junk Today, Gone Today
Whether we're called to a private home or to a business, we are able to remove anything non-hazardous that two people can lift: furniture, electronics, appliances, construction and renovation debris, yard waste, etc. (We cannot take hazardous material such as paint, chemicals, oil, asbestos, spouses & pets, etc).
Everything is properly recycled, disposed of, or donated. And our Loyalty Reps call after the job to make sure customers are 100% satisfied!
State-of-the-Art Technology and Equipment Includes:
National toll-free number
Innovative website where customers can book online
Centralized call center (Customer Loyalty Center)
Advanced customized proprietary software (JunkWARE ) to manage scheduling
Larger truck beds and commitment to higher level of service than the competition
Start-Up Requirements
Do you wonder what it would be like to own your own business? Do you have what it takes to run a multi-truck operation? Are you an aggressive sales oriented individual?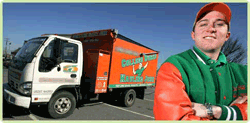 We are an organization that is built on accepting only the most qualified and motivated people into our system.
So what does it take to qualify bring this award winning business to your area?
Management and leadership experience
Minimum of $65,000 capital investment
Full time commitment
Marketing and sales know-how
Low investment and high potential for growth.
Testimonial
"College Hunks Hauling Junk offered me a low-cost, streamlined operation, and it fits perfectly with the metropolitan demographic. I've had great success leveraging the company's unique marketing strategy to service the growing demand for junk removal. " -Faisal Ansari, Central Florida Franchise Partner
Year Established: Value 1
Total Units Operating: Value 2
Cash Investment Required: Value 3
Total Investment Required: Value 4

Minimum Net Worth Required: Value 5
Franchise Fee: Value 6
Financial Assistance Offered: YES / NO
Training and Support: YES / NO