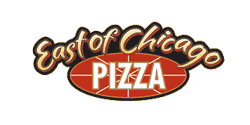 East of Chicago Pizza Franchise
Own a Top Concept in the $30+ Billion Pizza Industry
East of Chicago Pizzais one of the fastest growing pizza franchises in the United States today. As we continue to expand were looking for motivated individuals to join us. Previous experience in the restaurant industry is not necessary to become an East of Chicago Pizza franchisee; however a business management background and good people skills are ideal. As an East of Chicago Pizza franchise owner, youll enjoy numerous competitive advantages, including: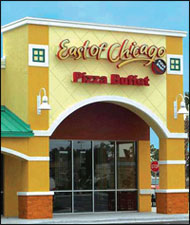 Industry recognition - Pizza Today magazine named East of Chicago Pizza, One of Pizzas Heaviest Hitters. East of Chicago Pizza has also been featured in Entrepreneur magazine and Success magazine.
Extensive industry experience - Weve been franchising for more than 19 years. Our experienced team of support personnel can help you build your business rapidly and efficiently.
Proven business system - Since 1990, approximately 100 locations have been established using our highly effective, business system.
Superior support, training and guidance - Our experienced staff will get you up and running quickly.
Brand awareness and loyalty - Consumers have embraced East of Chicago Pizzas signature, high-quality menu items.
Purchasing power - As part of our national network youll benefit from our significant purchasing power and negotiating strength.
Research and business development - New products and services are continually being tested and developed to ensure our franchisees are on the cutting edge.
Recession-resistant business - East of Chicago Pizza continues to thrive in all economic climates as evidenced by our 19-year track record of success.
Benefit From Owning a Business that Attracts a Vast Customer Base
Consumers are increasingly looking for ways to reduce the time and expense associated with meal preparation. As an East of Chicago Pizza franchisee youll benefit from owning a business that satisfies this demand. Pizza is the number one convenience food in the nation and a $30+ billion industry. East of Chicago Pizza locations serve high quality food at a competitive price. Our signature pan pizza features a light and airy crust, California tomatoes, a mozzarella cheese blend and only the finest quality toppings. As an East of Chicago franchise owner youll also offer a broad selection of specialty pizzas, subs and side items that satisfy a wide range of customer tastes.
Our Complete Business System Gets You Up & Running Quickly & Easily
East of Chicagos development and training staff will get you up and running as quickly as possible. We provide you with: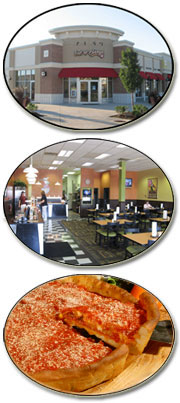 Thorough training - You and your designated operator or manager will receive comprehensive training. The month-long training program covers all aspects of preparing, opening and operating the restaurant.

Marketing assistance - Youll have access to our proven tools and strategies for attracting and retaining customers. Our staff will help you develop your marketing plans and budgets for your grand opening as well as your ongoing marketing efforts throughout the year.

Choice of store designs - Both dine-in with buffet units and delivery and carryout (DELCO) units are available within strip malls or as stand-alone units.

Real estate assistance- The East of Chicago staff will help you to find the right location and negotiate the best possible deal on your site.

Construction assistance - We will assist you in the design and layout of the restaurant. We will also guide you in the selection of the right contractors to do perform build out, as well as making sure you get the exact mix of furniture and equipment you need to maximize the efficiency of your restaurant.

Preferred pricing from vendors - East of Chicago has aggressively negotiated with vendors to provide you with savings on everything you need to operate your restaurant. The pricing our franchisees receive are at significantly lower levels than you could achieve as an independent operator. This applies not only to initial furniture and equipment purchases, but also to the supplies, inventory, uniforms and everything else you'll need on an ongoing basis.

Protected territory - A protected market area is established for each location.

Ongoing support - We will continue to provide ongoing support services to you by phone, e-mail, and periodic onsite visits to your location. We will also provide you with access to our online support website. We also regularly update our operations manual with new information.
Franchise ownership opportunities are available for single units or multi-units, and area development and master franchise opportunities also exist.
Year Established: 1990
Total Units Operating: 100
Cash Investment Required: $50,000 - $100,000
Total Investment Required: $125,000 - $185,000

Minimum Net Worth Required: $250,000
Franchise Fee: $20,000
Financial Assistance Offered: Third Party
Training and Support: YES