Maaco Collision Repair & Auto Painting

Automotive Franchise Opportunity Information
---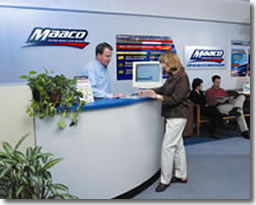 Incredible Hours, Incredible Industry and Incredible Earnings Potential
Maaco is truly the leader in the massive 42 billion dollar automotive paint and collision industry. With virtually no nationally branded competition and nearly 40 years in franchising, Maaco dominates the automotive cosmetic paint market share at over 45%. Furthermore Maaco's advancement in the cosmetic collision ("cosmolision") sector provides dealers with huge opportunity for continued growth.
Our Franchisees Make Money
At Maaco Collision Repair and Auto Painting we are proud of the fact that our franchisees average some of the highest sales volumes of any national automotive retail franchise company. As you investigate our brand, you will be excited to learn that our franchise centers average annual sales volumes of $929,000 and when franchisees increase sales in excess of $1,000,000 a year, that group of franchisees is taking home over $173,000 in annual profits. See Item 19 in the 9/2010 Maaco FDD for complete details.
Our industry looks shinny and bright!
If the thought of a proven business model, family oriented operating hours and huge income potential excite you then we encourage you to take a deeper look into Maaco Franchising. And if you are worried about not having automotive experience, that is not a problem at all. Maaco is a retail oriented franchise business with successful owners from many walks of life.
At Maaco you will enjoy:
World Class Training
Incredible Buying Power
Proprietary Software
Incredible start up support and ongoing training
Pride of ownership of proven brand and business model
Territory Protections
Why Trust Us?
2010 Ranked #1 in Class by Entrepreneur Magazine
2010 Ranked 95th over all by Entrepreneur Magazine
Cornerstone Company of Driven Brands, Inc. America's most diversified automotive franchise company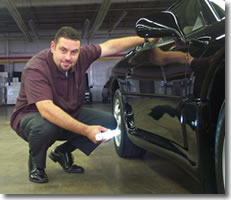 The Investment
Compare our Earnings Potential with any Brand whose initial investment package is less than $300,000 and you will quickly understand why Maaco should be your number one choice when choosing a franchise. We are SBA approved and in most cases projects are funded on 25% to 30% cash injection so an applicant will need a credit score of over 700 and a minimum of $75,000 to $90,000 available to invest plus working capital which typically can be financed.
What Next?
If you want to learn more, please complete the brief information request and a Regional Franchise Development Manager will call you as soon as possible. Making a decision to purchase a franchise is never easy, that is why we think you will be impressed with our people, our brand and your ability to make a fantastic living while maintaining a strong quality of life.
Year Established: 1972
Total Units Operating: 473
Cash Investment Required: $75,000
Total Investment Required: $325,000

Minimum Net Worth Required: $300,000
Franchise Fee: $40,000
Financial Assistance Offered: Third Party
Training and Support: Comprehensive