Maui Wowi Hawaiian: Serving Up Success!
Founded in 1983, Maui Wowi Hawaiian has experienced fantastic growth to include nearly 500 franchised units in our worldwide franchise "Ohana," or family.
Maui Wowi Hawaiian is the only franchise that offers authentic, natural Hawaiian products, fresh-fruit smoothies, blended Hawaiian coffee beverages, and genuine Hawaiian lifestyle merchandise.
We celebrate our Aloha Spirit by embracing the values of family, harmony, balanced living and abiding by the principles of sustainable living.
RECOGNIZED THROUGHOUT THE WORLD!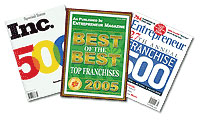 Inc 5000 Franchise List, August 2008
R&I's Top 400 Restaurant Chains, July 2008
QSR Magazine Ones to Watch, April 2008
#190 Franchise 500, January 2008
#165 of America's Top Global Franchises, January 2008
Voted as a Franchisee Satisfaction Award Winner by Franchise 50, April 2007
#1 "Juice Bar" Franchise in the World!, Entrepreneur Magazine Franchise 500, Jan. 2005
#175 Ranked Fastest Growing Private Company, INC Magazine's INC 500, Jan. 2005
Featured on CNN, Bloomberg TV, Fortune Business News, Entrepreneur Magazine's Franchise 500, Wall Street Journal, USA Today, Nations' Restaurant News, and many others!
WHY COFFEES & SMOOTHIES?
The hottest trend in the US Juice and Smoothie industry is the Fusion Concept, combining smoothies with other products such as Coffee and Espresso Drinks
Everyday, Americans drink more than 400 million cups of coffee and that figure continues to grow annually.
Since smoothies offer a healthier treat than other snack options, tastes good and also offer convenience and portability, the market is expected to grow at a rate of 10-13% over the next five years.
UNMATCHED FLEXIBILITY
Build your business as big (or small) as you wish:
You can create a Hawaiian experience at a local community event, large venue, with as little as 60 sq. feet with our Ka'anapali mobile cart or build out a retail store from 600sq. feet to 1,200 sq. feet in a lifestyle center, mall, airport, college campus, military base or by itself.
"We love the flexibility of having mobile carts, we love being able to have a store, we love being able to do catering. This business can be whatever we want it to be."
~Noreen Gardner, Colorado
"Owning my own business was a dream for many years and now a great opportunity and reality with finding Maui Wowi Hawaiian. I was amazed as how organized and helpful the Library of Operating Manuals. There are a lot of good tips and reference materials in this manual that I can use. The Maui Wowi Hawaiian business opportunity has been a great fit for the change in life I was looking for. "
~ Peg Mitchell, Illinois
DO YOU HAVE WHAT IT TAKES?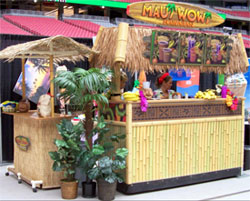 Our tremendous success is due to awarding franchises to the right people most likely to succeed in following the Maui Wowi Hawaiian system.
Potential Maui Wowi Hawaiian franchisees should have a keen interest in the foodservice industry and a love for the Hawaiian Culture. They should possess or have access to the required capital as well as the ability to manage a company. If you believe you have these qualities, than we invite you to explore the amazing franchise opportunities we have to offer within Maui Wowi Hawaiian's rapidly expanding franchise system.
We're certain once you've experienced our franchise system's way of life, the 'Aloha Spirit'; you'll understand the Maui Wowi Hawaiian difference.
I see tremendous opportunity in the Maui Wowi Hawaiian franchise --- the mainland staff does an EXCELLENT job I've seen tremendous focus on branding and communication, which are critical in ensuring we all deliver the same Hawaiian experience worldwide."
~ Stacey Riska, Rockville, MD
Year Established: 1983
Total Units Operating: 400+
Cash Investment Required: $65,000 - $250,000
Total Investment Required: $65k-$727k

Minimum Net Worth Required: Net Worth: $250,000
Franchise Fee: $27,500 - $59,500
Financial Assistance Offered: Third Party
Training and Support: Comprehensive