Sports and Fitness Franchise
---
Realizing Your Goals Through a One2One BodyScapes Franchise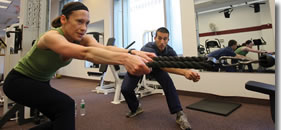 If your goal is to build a successful business for yourself, you may be closer than you realize. You don't have to be a fitness expert or a personal trainer to become a One2One Bodyscapes franchisee. All you need is a passion for fitness and the desire to operate a successful customer focused business.
With a One2One BodyScapes franchise, you will benefit from an established and well recognized name, effective marketing programs and a strong consumer demand for personal training services. Our personal training centers are managed according to a proven system and we teach that system to our franchisees.
Receive One2One Support
From real estate to marketing to operations, we are here to assist you start your business and help it grow. The principals of the company will participate in the development process and offer you the benefit of their expertise in building a successful and profitable One2One Personal Training Center.
Benefits of a One2One BodyScapes Franchise
One2One BodyScapes Brand
BodyScapes is a 12 year old company with 19 successful locations in the greater Boston area. BodyScapes is the Premier Personal Training Facility and has been awarded Best of Boston for "Best Personal Trainers" in 2003 & 2006. BodyScapes has built its business and reputation on exceptional customer service and helping clients achieve their goals.
Site Selection
One2One BodyScapes will provide you with specific site criteria, prototype location plans and will review your proposed site to ensure it meets our standards.
Studio Layout & Design
One2One Bodyscapes will provide specifications for equipment purchase, interior design schemes, signage and all aspects of the physical site.
Start Up
Our organization will assist you through the entire start up process to make it as easy as possible.
Operating Manual
With over 12 years of experience operating personal training studios, we have compiled a detailed operations manual for our franchise. The manual will become your #1 tool to managing and running your successful studio.
Marketing & Advertising
We have many marketing and advertising programs in place from direct mail pieces to referral incentives to help you grow your client base. These programs are all tested and proven over many years of running our business. We will assist you in identifying the vehicle and program for advertising and marketing that will work for your specific location.
Training Program
One2One BodyScapes has developed a comprehensive training program to help you succeed. The training program will cover all aspects of running your own personal training studio from the back office to training clients and managing your employees.
You will spend time in one of our corporate owned locations learning the day to day operations on how to run your own successful studio.
Scheduling Software
Our software is a customized system from one of the leading personal training software providers. You will be able to track all of your client's sessions, payments and contact information. The software has many reports and marketing tools to help you grow your business.
Internet Presence
One of our largest marketing tools is our website. With over 100,000 hits per month and growing, we are consistently driving new clients to our studios. Our Intranet will allow us to communicate easily with all the franchisees and allow the franchisees to share their success stories with each other.
Please note this opportunity is not offered in the following states: CA, HI, IN, MD, MN, ND, NE, RI, SD, WA or WI or outside the United States. Interested parties should have at least $50,000 liquid capital to invest.
Year Established: 1997
Total Units Operating: 20
Cash Investment Required: $50,000
Total Investment Required: $135,000 - $194,000

Minimum Net Worth Required: $250,000
Franchise Fee: $35,000
Financial Assistance Offered: YES
Training and Support: YES