Papa Murphy's Take 'N' Bake Pizza
---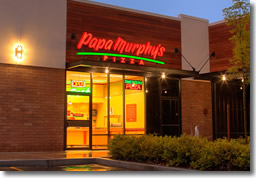 Our Recipe
Our RecipePersonal and professional success can come in many delicious varieties. But you've not made it until you've made a fresh Papa Murphy's pizza. Our franchise owner/operators entrepreneurs just like you have made us the world's largest, fastest growing Take 'N' Bake pizza franchise and America's best pizza chain seven years in a row.* So if you're interested in joining a franchise family that's really going places, Papa Murphy's is the opportunity for you.
Lower Initial Investment Than Comparable Franchises
Because Papa Murphy's stores do not require commercial ovens, dining room seating and other expensive equipment, your initial construction costs and operating expenses are less than they would be with a quick service restaurant and other comparable franchises.
Easier To Own and Operate Than a Restaurant
No previous restaurant or franchise experience is required to open your first Papa Murphy's store in an established market. From helping you select your site and open your store to offering you a comprehensive training program and providing marketing materials created with your success in mind, our corporate staff supports franchise owners from day one.
Reduced Labor and Space Requirements
Our fresh Take 'N' Bake pizza concept comes with more than just quality toppings for all tastes. Limited hours of operation, smaller store footprints and other proven efficiencies make a Papa Murphy's franchise a manageable investment of both your time and money.
Undeniable Customer Loyalty
Customer loyalty is a given when you consistently provide a quality product at a reasonable price. So it's no wonder that consumers have voted Papa Murphy's America's Best Pizza Chain seven years in a row.*
Papa Murphy's is more than 1,800 locations strong and currently extending our franchise family inArizona, Arkansas, California, Florida, Kentucky, Michigan, Missouri, Nevada, North Carolina, Ohio, Oklahoma, Texas and more!To learn more about the Papa Murphy's franchise program, please complete the form below.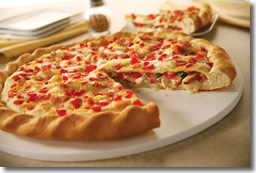 * Restaurant & Institutions Magazine, Choice in Chains Award

2007 Papa Murphy's International, Inc. All Rights Reserved.
Please note this franchise is currently not accepting inquires from outside the United States. Interested parties should have at least $250k net worth with $80k liquid.
Year Established: 1981
Total Units Operating: 1,180
Cash Investment Required: $80,000
Total Investment Required: $171,655-$353,225

Minimum Net Worth Required: $250,000
Franchise Fee: $25,000
Financial Assistance Offered: Third Party
Training and Support: YES