We have individual and co-brand opportunities with exclusive development areas available nationwide

We prove that QUALITY speaks for itself.
Papa Romano's was founded in 1970 to provide premium quality pizza, subs, salads, chicken, pasta, breads and other Italian prepared foods. Our award-winning chain has grown to approximately 60 locations in southeast Michigan. Pizza continues to be the #1 dinner choice in America.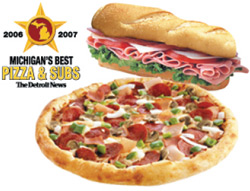 Our "Catering On Demand" system that we have perfected over 30 years. We're looking for energetic, dedicated people to help us grow as we help you fulfill your dream of a successful career and financial independence.
Papa Romano's Name:
For more than 30 years, people of all ages have responded with delight when they see our cheerful concentric circle logo with the little Bambino in the center. It has a warm, positive, happy image that draws customers into our stores.
Quality Products and Recipes:
You'll get access to the highest quality products, as well as the great recipes that makes Papa Romano's the best.
For Franchise Information on Both of These Great Names, fill Out the Form Below and You Will Be Contacted!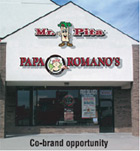 Mr. Pita was founded in 1994 to provide consumers with a healthy, delicious alternative to traditional fast food choices. We carry a large selection of classic rolled pita sandwiches, baked pitas, soups, salads and much more. Our award-winning chain has grown to approximately 40 locations across southeast Michigan. We believe we are perfectly positioned to service today's rapidly growing health conscious consumer sector. We're looking for highly motivated people to help us expand our award-winning chain.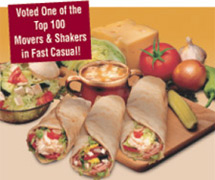 Ask about our Pita Wagons, they're mobile revenue machines
Both Brands Offer Unsurpassed Franchise Support
Guidance in the Site Selection and Lease Negotiation
Assistance in Store Design and Development
Instruction in Inventory Control Techniques, Personnel Management Skills and In-Store Policies and Procedures
Grand Opening Support and Assistance
Assistance in Advertising and Promotional Support Materials Ordering
On Site and On-Line Support

Please note this franchise is currently only accepting inquiries from AL, AZ, CA, CO, FL, GA, IL, KY, MI, NV, NY, NC, OH, PA, SC, TN, TX, VA, WA, WV, WI and none from outside the United States. Interested parties should have at least $80,000 to invest.
Year Established: Value 1
Total Units Operating: Value 2
Cash Investment Required: Value 3
Total Investment Required: Value 4

Minimum Net Worth Required: Value 5
Franchise Fee: Value 6
Financial Assistance Offered: YES / NO
Training and Support: YES / NO