Watch Your Business Grow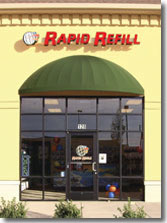 Join one of the fastest growing franchises in the inkjet and laser toner cartridge industry. Rapid Refill is your convenient, local retailer for Print Solutions: Ink, Toner and More!
An Industry That Is In Demand
The incredible growth in the industry is fueled by our dual channel customer base: retail and commercial. Both channels use large quantities of inkjet and toner cartridges. We satisfy this demand by providing print solutions that include a huge selection of products from popular name brands like HP, Canon, Epson, and Lexmark*, plus the eco-friendly line of Rapid Refill Brand ink and toner products.
By 2009, unit sales of refilled ink and toner sold at retail stores are projected to double over 2006.**
Global Ink and Toner Industry projected to reach $70 Billion by 2009.**
Global Aftermarket (refilled) portion projected to reach $17 Billion by 2009.**
Hit the ground running.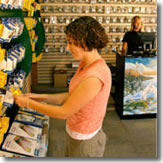 Our system employs aggressive consumer marketing and direct business contact strategies to enable you to build store sales in the marketplace around your store. From product knowledge, marketing and sales programs and in-store merchandising, to store operations support, Rapid Refill employs a team of professionals dedicated to supporting our franchisees' success! Join Rapid Refill and receive:
Advanced training to give you the tools you need for success, along with lots of help to get you started with Rapid Refill
Easy to implement store buildout and startup programs
Full complement of ready-to-sell RAPID REFILL Brand and OEM brand ink, toner and more
Active and involved ongoing support to reinforce your efforts and to help you achieve your goals
Turn Ink Into Inc.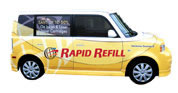 Challenge yourself and use your skills to do something good for your family, your community and the world. Everybody prints, and as a Rapid Refill franchisee you are perfectly positioned to provide high quality print solutions to meet the demands of the huge and growing market for ink, toner and more! Fill out the short form below or call 1-877-880-4INK. Please note interested parties should have at least $100,000 to invest.
*International Imaging Technology Council
Year Established: 2003
Total Units Operating: 200
Cash Investment Required: $50,000
Total Investment Required: $82,000 - $198,000

Minimum Net Worth Required: $350,000
Franchise Fee: $30,000
Financial Assistance Offered: Third Party
Training and Support: Comprehensive