CONSULTANTS/TRAINERS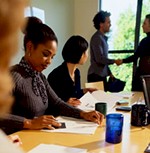 International firm expanding in US needs independent consultants to represent our company. We provide the finest tools available today to work with Strategic Planning, People Development and Process Improvement.
There are also opportunities for Life Coaching and working with Youth. Very high income potential and return. Extensive training and unlimited support. Consultative Sales experience helpful.
Resource Associates Corporation operates through a network of Independent Affiliates. There are also opportunities to work for one of our Affiliates as they grow their businesses. Currently we have people operating and using our processes both internationally and in over 45 states in the USA. Our Affiliates work with clients including small family owned businesses and fortune 100 companies. Because of the unique flexibility of our processes, the applications are unlimited. We can work with organizations, we can coach individuals in a Life Coaching role and we can help young people with our Youth Leadership process, America's Rising Stars. Our Affiliates create a business that fits their background, their needs and their lifestyle, while still having the structure, support and security of being part of an organization.
At RAC, we place a great deal of importance on appointing the right people to be part of our network. We provide them with the tools, training and credibility that can ensure their success. For many of our people, the combination of results oriented materials, the support of our outstanding network, and the benefits of being part of a international organization, make it possible to show profitability in their businesses very quickly.
Becoming a part of the RAC organization is an appointed opportunity based on a Mutual Evaluation. Our various concepts and services are unique and can provide a variety of opportunities for qualified candidates. We are happy to invite those candidates to our home office for a personal meeting..
Year Established: Value 1
Total Units Operating: Value 2
Cash Investment Required: Value 3
Total Investment Required: Value 4

Minimum Net Worth Required: Value 5
Franchise Fee: Value 6
Financial Assistance Offered: YES / NO
Training and Support: YES / NO