Introducing Salad Creations
The Most Exciting Restaurant Concept Available Today!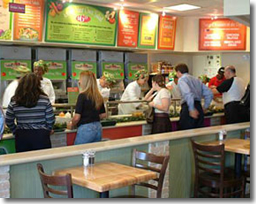 Diet fads come and go, But "create your own" eating is here to stay. Salad Creations was developed to meet the growing needs of the health-minded consumer who wants a great, healthy meal that is both delicious and fresh. Consumers are seeking healthful alternatives to traditional fast food fare, and Salad Creations offers just that, using only the freshest ingredients and the highest quality produce available.
Crisp lettuce, garden fresh vegetables and an incredible selection of salad dressings make a great "create your own" experience for guests. Special dressings are made from the finest ingredients possible, from carb-free and low fat recipes to traditional selections. Customers love the flavorful wonders! Plus, all items-including nutritious smoothies, flavorful soups, and satisfying wraps and sandwiches- are prepared with respect to exacting standards and methods that took years to develop.
It's easy as 1-2-3 to open your own Salad Creations franchise.
1) Choose your location.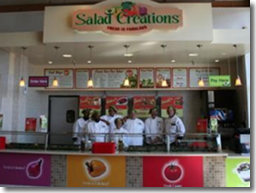 The Salad Creations footprint ranges from a 300-square-foot kiosk to the 1,500-square foot in-line location. This unit square footage range allows you to address a wide range of location formats on a modular basis.
The basic module represented by the 300-square-foot kiosk represents the company's core concepts: "Create your Own Salad," "Soup", and "Soft Drinks." When additional square footage is available, modules such as "Delivery" (for downtown locations), "Smoothies," "Wraps" and "Sandwiches" may be added. As brand integrity and consistency remain essential to the long-term success of the Salad Creations system, only approved product and service modules may be implemented.
2) Invest in your own business!
Once you find a location, we will assist you with restaurant layout, construction, and the ordering of equipment and inventory.
With your investment of approximately $200,000-$225,000 (including $30,000 working capital and inventory), you can start a Salad Creations franchise of your own.
3) Get training!
Salad Creations is committed to helping you cultivate your business. Once a site has been selected, our initial and ongoing support comprises build-out, Inventory, full operational training, as well as our highly regarded company cultures.
The Salad Creations Training Team offers on-site training, marketing and advertising assistance, restaurant operations instruction and customer service procedures training. The team will also teach management techniques, together with inventory, cost accounting and general business procedures.
New team members are trained at Salad University, where they learn every aspect of hospitality, whether that means performing the proper chopping technique or chirping the famous "Free Salad!" chant. Our team members are the reason why this franchise is so successful. The acclaimed Salad University offers what we call "Salad 101," where all "salad chefs" learn how to meet and exceed guests' expectations.
Who are we?
The founding team at Salad Creations comprises experienced professionals who possess over 70 years of combined experience in the restaurant and franchising industries. In addition to creating the unique modular design and high quality products we offer, they established training as a core value. We believe intense, reoccurring and detailed training is the cornerstone to our success. This will remain our highest priority.
Growth Plan
With our incredible purchasing power and the increasing need for healthy fast food, we created an aggressive, but responsible, growth plan through the area developer model to help people eat healthier, smarter and more satisfyingly across the world.
Salad Creations welcomes qualified franchise candidates to join in the excitement.
Area Developer Opportunities Available
Salad Creations also has opportunities for area developers. As an area developer, you own an exclusive territory which allows you to receive a share of franchise fees from franchises sold in the territory as well as ongoing royalties from franchisees that you support in your territory. This opportunity is for those that want an expanded role and larger income potential through franchising.
$80,000 Liquid Capital Required for this franchise opportunity.
Year Established: Value 1
Total Units Operating: Value 2
Cash Investment Required: Value 3
Total Investment Required: Value 4

Minimum Net Worth Required: Value 5
Franchise Fee: Value 6
Financial Assistance Offered: YES / NO
Training and Support: YES / NO