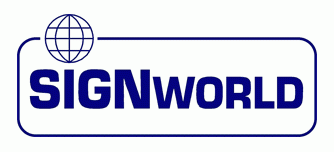 *No Royalties *No Rules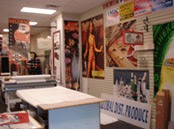 Ask any Signworld owner and they will tell you they are not a signmaker. A Signworld owner hires signmakers.
They joined Signworld because it is a professional, B2B business with reasonable hours, low investment and minimal staffing requirements. Signworld is one of the fastest growing organizations in a multi billion-dollar industry. Companies of every type and every size use signs, and the vast majority of those are disposable. 99% of all signs are indoors, not outdoors. The average life of a sign is less than 30 days. Retailers change their signs every month.
Signworld serves 100% of the sign industry requirements anything from paper signs to vehicle wraps to large outdoor signs. It is a business that thrives on repeat customers and the ability to grow accounts within large corporate clients or retail chains. Signworlds are commercial sign companies which service customers such as: Subway, Great Clips, Ford Motor, Hewlett-Packard, and Coca-Cola, all who need large quantities of signs every month.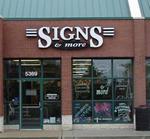 Many Signworld owners begin their operation in 1200-1500 square feet of either an industrial or strip center, and migrate to an expanded office park or light industrial location after just a few years. Ultimately, 90% of revenue is generated by a small number of large corporate and commercial clients usually around 10 to 30 customers.
Signworld is not a franchise thus there are No Royalties and No Rules usually associated with such business models.
While Signworld owners run their business the way they want to, they benefit from one of the most comprehensive programs of training and ongoing support in the industry. Beyond initial training, each owner has a Signworld business coach who provides weekly guidance and assistance over a 2-year period. Signworld owners also enjoy ongoing peer-to-peer support through communication with their fellow Signworld owners to share ideas on sales, marketing, production and other aspects of the business.
Backgrounds of some Signworld Owners who succeeded with only 1 location open 5 days per week: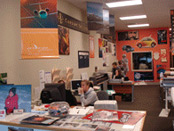 Truck Driver- Freight Company
Banker
Teacher - Elementary School
Wine Salesman
Advertising Agent
Security Alarm Company Owner
Mfg. Production Manager
Handyman at $25 per hour rate
Convenience Store Owner
Nurse
Food Broker
Corporate IT Manager
Hotel Manager
Metal Fabricator - Pipes
CPA
A few recent examples of Signworld owners performance:
Mar 5, 2010 , Martin Neil, Irvine, CA - was awarded a contract by the Anaheim Transit Authority to wrap 19 brand new city buses with graphics for a Disneyland promotion.
Mar 1, 2010, Bob McEwen, Wake Forest, NC Bob broke even (cash-positive) in his 4th month of business.
Feb 10, 2010, Steve Rye, Vancouver, BC, CAN Steve opened Signworlds 3rd location in Canada
Jan 30, 2010, Larry Foster, Detroit, MI - just moved from his leased 4200 sq ft location to a 8000 sq ft location that he purchased in November 09
Jan 4, 2010, Craig Van Velzer, San Diego, CA in 2009 ended the year at $5.9 Million in sales.
If you are ready to get into business yourself and would like more information on SIGNWORLD, Please fill out the form below:
Year Established: 1998
Total Units Operating: 250
Cash Investment Required: $50,000
Total Investment Required: $185,000

Minimum Net Worth Required: $250,000
Franchise Fee: $0
Financial Assistance Offered: Yes-SBA
Training and Support: Comprehensive