State Street Barbers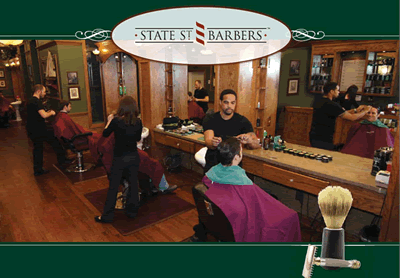 Named by Playboy magazine in 2010 as one of America's top ten barbershops, State Street Barbers is a revolutionary concept in men's style, rooted firmly in the classic barbershop tradition where men are treated like men and given the great quality, atmosphere and premium grooming experience they deserve. And, for those individuals selected to join the State Street Barbers' franchise team, it is a step toward an exciting and potentially rewarding future.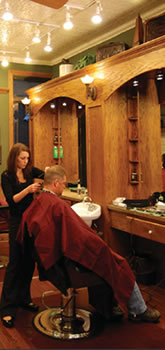 Join a select team. Grow your business. Plan your future.
Few franchise programs are so clearly aligned with current trends and well-positioned to take advantage of a growing market as State Street Barbers is. Our research shows an increased demand for top-quality men's grooming products and services, and an expanding client base with an appreciation for old-style customer service. When you combine this with all that State Street Barbers brings to the table an established, fully-branded concept, a talented team that is committed to supporting franchise owners, and a time-tested business model that works in multiple locations it's easy to see why this is a unique opportunity that just makes good business sense and can provide you with the chance to build a solid future.
When you join our team, we will be there with you throughout your entire journey leveraging our experience and devoting our time and energies to work with you to navigate obstacles, identify opportunities, and chart a path to a bright and exciting future.
Here are just some of the benefits, services and tools available to our franchisees: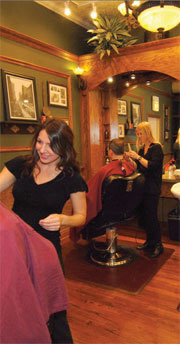 The strength of the State Street Barbers' leadership team. Few organizations can match our 20+ years of collective industry and corporate experience in strategic consulting, finance, marketing, and operations.
Established concept with complete site selection guidelines. We are able to mine data we have gathered through the years to help find areas and sites that are a good demographic fit with our concept.
Interior decorating services. Design and dcor guidance will be provided by the award winning Contrast Design Group.
Site build-out guidance. We will assist you through the entire build-out stage and we will always be just a phone call away to help you coordinate with your construction team, navigate your way through regulatory requirements, conduct initial hiring and training, and prepare for your grand opening.
Access to approved vendors and discounts exclusive to State Street Barbers' franchisees.
A detailed operations manual with step-by-step checklist for pre-opening and ongoing operations.
Marketing assistance on techniques and materials to help attract and retain customers in each territory, with direct support in the development of marketing campaigns.
Customized, complete training both at a corporate location as well as on-site support prior to opening and once the franchise is operational.
Periodic consultative field visits. We will meet with each franchise owner on an ongoing basis working together to develop strategies for building revenues, reducing costs, and
proliferating best practices across the State Street Barbers' team.
"What binds effective franchise owners together is a deep-seated belief in the business concept and a commitment to achieving and sustaining excellence as it pertains to that concept. As the founders of State Street Barbers, we want to carry forward our vision by building long-term relationships with selected individuals who share our passion for State Street Barbers and are just as committed as we are to its growth and evolution." - Brian Collie, Mark Heintz & Peter Solomon, founders of State Street Barbers

State Street Barbers is currently not accepting inquiries from CA, HI, MN, ND, SD, UT, WA, or from outside the U.S.
Interested parties should have at least $100,000 to invest.
Year Established: Value 1
Total Units Operating: Value 2
Cash Investment Required: Value 3
Total Investment Required: Value 4

Minimum Net Worth Required: Value 5
Franchise Fee: Value 6
Financial Assistance Offered: YES / NO
Training and Support: YES / NO