Resist the Recession with TeamLogic IT, One of the Fastest Growing Franchise Companies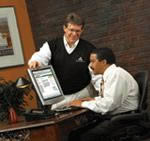 Businesses need computers every moment of every day. As a TeamLogic IT franchise owner, you'll be targeting the fastest growing part of the computer services market: small to mid-sized businesses.
In this economy, thousands of small businesses can't afford to buy new equipment, so they need a trusted partner to help maintain their existing equipment longer.
They also need someone who can perform routine and emergency maintenance; help them control their computer service expenses; and prevent the viruses and other issues that cause downtime and decreased productivity.
It's much more affordable for small businesses to outsource this to a local provider like TeamLogic IT than pay a permanent staff member salary, benefits, insurance, etc.
At TeamLogic IT, we're looking for franchise candidates with real-world business experience, an eagerness to learn, and the drive to succeed. No technical background is required to run a one of our franchises.
Companies Will Pay You to Be Their Virtual Computer Services Department
A mid-range computer services employee at a corporation costs $50-70,000 per year. It's much wiser for small businesses to contract with you for around a third of that cost. In doing so, they'll have access to your state-of-the-industry technology as well as the resources of the entire TeamLogic IT network.
You'll Generate Regular Income Using Our Unique Technology
You'll be able to use our unique programs to remotely monitor your customers' computers for viruses, back up their data to a secure off-site facility, install new virus protection when necessary, and more. Customers will pay you recurring monthly income for the peace of mind that you'll provide.
Get the Training and Support that Help You Build Your Business
As a TeamLogic IT franchise owner, you'll be backed by over 40 years of training and support from one of the nation's largest, most respected franchise management companies, Franchise Services, Inc.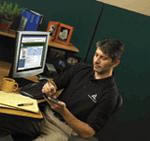 We'll teach you everything you need to know, including how to:
Master our innovative technology
Find customers and generate sales using our marketing and sales systems
Hire, train and manage the staff you need to build your business at a steady pace
This is just part of why Franchise Times named us to their "Fast 55" as one of the Fastest Growing Young Franchises. And why over 4,000 franchisees surveyed by Franchise Business Review ranked us #4 out of the top 50 franchises.
We Keep Start-up Costs Low
Getting started is easy and overhead is low. All you need is an office, one employee and one purchased or leased vehicle wrapped in graphics displaying your company's brand and telephone number. It's that easy.
If you're driven to succeed, don't go it alone. Request Information and resist the recession with one of the fastest growing, most supportive franchises in the world, TeamLogic IT.
Year Established: 2004
Total Units Operating: 21
Cash Investment Required: $40,000
Total Investment Required: $70,000 - $120,000

Minimum Net Worth Required:
Franchise Fee: $25,000
Financial Assistance Offered: Third Party
Training and Support: 1 Week at TLIT University for two people