Be A Part of One of the Fastest Growing Window Treatment Franchises in America!
Are you looking for a business:
Where you are aligned with a Hot Company in a Hot Growth industry for 14 consecutive years
Where your business kicks off immediately with V2K's Quick Start Training & Marketing Program
Where you have a Secret Weapon and an Overwhelming Advantage
That is home based, setting your own schedule and maintaining quality of life
Where men and women excel equally
Where you can become in demand
Where the products and services are a need not a luxury
That is an all inclusive Franchise System
V2K's Secret Weapon
Our 3D Dcor Creator Technology is what separates us from everyone else on the Planet! This powerful software tool will lead to greater customer satisfaction and sales. The "see it before you buy it" technology allows you to perform simple to complex window treatment designs in 3D, with near photo-quality graphics and to scale right in front of your customer. This allows you to sell, close and place orders in a few keystrokes. The efficiencies our Dcor Creator brings to the back end of your business will astound you!
HOT Growth industry
The Home Dcor/Home Improvement Industry has exploded in recent years with the popularity of TV and Talk Radio shows that dominate the airwaves. The expansion of the "Big Box" Stores and Home & Garden shows have also added to the huge demand for products and services. More people and businesses are spending more money than ever before in their homes and businesses and our Franchisee's mobility and on-site sales is a perfect match for today's convenience driven customers. Most people don't realize the size of the market place, or the demand for our products and services. You will be amazed at the opportunity.
V2K's all inclusive franchise system includes: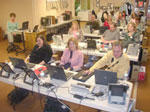 Comprehensive Quick Start Training
Field Training and Support
Complete technology package including 3D Dcor Creator, laptop and QuickBooks
80,000+ computerized inventory items
Extensive Sample Kit
Quick Start Marketing program
V2K manages the ordering and delivery of all products
And much, much more
If you are ambitious and ready to reap the rewards of owning your own business and want to be in business for yourself but not by yourself, V2K is for you.
To fully understand the opportunity and earnings potential of owning a V2K franchise, just fill out the information below to receive a Franchise Offering Circular and free information kit.
Please note this franchise is currently only accepting inquiries from Canada and the U.S. EXCEPT for MT and UT. Interested parties should have at least $40,000 to invest.
Year Established: 1996
Total Units Operating: 170
Cash Investment Required: $29,950
Total Investment Required: $59,900 - $122,900

Minimum Net Worth Required:
Franchise Fee: $29,950
Financial Assistance Offered: No
Training and Support: Comprehensive 2 week training program - 1 week advanced after 4 months