AMERICA'S UPSCALE AFFORDABLE MASSAGE FRANCHISE
WHY A ZEN MASSAGE FRANCHISE OPPORTUNITY
Low investment - Increased Profit Potential
Low monthly overhead revolutionary "unique & positive" relationship with therapists and staff.
Simple build out reception area and 9-11 small rooms,
Can operate in relatively small footprint 1800 2200+ square feet.
Usually ramps up quickly
Recession Resistant Concept
Compelling alternative to expensive spas that charge double the price for similar services.
More and more people are recognizing the benefits of therapeutic massage, but it has not been affordable to the masses until now.
The corporate center started 4 years ago and now does more than 275 massages/week.
Not usually difficult to recruit staff go directly to schools.
In 2007 the corporate CENTER generated about $470k in gross revenues.
As a Zen Massage franchisee you will carry little to no inventory, realize a low investment and be the first in many cases in your market with the concept that everybody's talking about.
THE MASSAGE INDUSTRY
Industry statistics: According to The American Massage Therapy Association
Consumers now spend between $6 and $11 billion annually on visits to massage therapists.
Doctors and consumers are increasingly turning to massage as an adjunct to regular health practices
The Spa industry employs almost 300,000 full-time and part-time people and is growing at an annual rate of 20% each year.
Massage therapy is a recognized insurance-eligible member of mainstream health care. With the establishment of national certification and the development of licensing laws for massage therapy, the massage therapy profession has moved toward recognition and credibility among health-care providers and insurance companies.
Franchise Support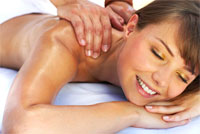 Start Up Support
Site Location demographic study.
Comprehensive Site Selection Manual
Assistance in center layout and design.
Assistance with organizing your Grand Opening, including media and advertising purchasing.
Training
One week comprehensive classroom and on-the-job training program at our corporate center.
Two - three days hands-on-training at your center.
Exclusive use of our proprietary Operations Manual.
Exclusive use of our customized Scheduling and Payroll Software program.
Tools For Success
Use of Zen Massage name, logos and trademarks.
Use of our software application specifically written to assist you in running an efficient business.
Access to proprietary and proven systems and techniques designed to make business ownership simple and efficient.
Pre-negotiated and discounted vendor rates offered exclusively to Zen Massage Center franchisees.
Your own email address at zenmassageusa.com
A well managed website that will promote your Zen Massage Center at an easy to find web address, that will post your address, phone number, hours of operation and give directions to and from your center.
Ongoing Support

Internet Technology support.
Scheduled visits from Field Support Representatives.
Meetings, teleconferences and workshops designed to keep you informed and ahead of market needs.

Opportunity Types
There are currently three types of Franchises Opportunities available for qualified applicants.

Single Unit Zen Massage Center Single Unit License grants an individual or entity the right to own and operate an individual Zen Massage Center in an approved business location.

Area Developer Zen Massage Centers Multi-Unit License grants an individual or entity the right to own and operate multiple Zen Massage Centers in approved business locations.

Area Representative Zen Massage Centers grants an individual or entity a licensee to develop a predetermined territory. Licensee must operate their own single unit franchise and always be available to support the local franchisees in their region. In addition the area representative must have adequate resources to develop their territory. The area representative will receive portions of upfront franchise fees and ongoing monthly royalties that are collected within their territory.

Whether you are interested in developing a single center or multiple centers, Zen Massage Franchising has the right opportunity for you.

Become a part of this innovative massage concept today!

Current Availability

Zen Massage Franchise Opportunities are Currently Available in the Continental United States. Registrations in process in MD, MN, IL, ND, CT and NE


Year Established:
Total Units Operating:
Cash Investment Required: $30,000 Minimum
Total Investment Required: $65,000 - $170,000

Minimum Net Worth Required:
Franchise Fee: $25,000
Financial Assistance Offered: Third Party
Training and Support: Comprehensive